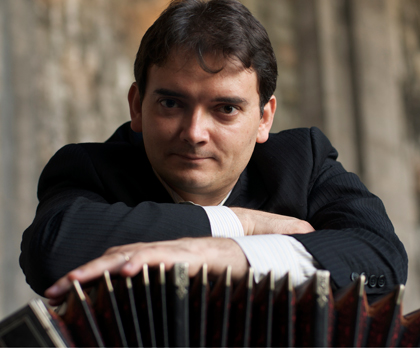 BIOGRAPHY
Revised on Sep, 2022

Praised by the New York Times as a "splendid player," Grammy-winning musician, composer, recording artist and educator Hector Del Curto is one of the world's most sought–after bandoneonists. He has performed with many renowned artists across musical genres, and appeared with the world's leading orchestras, including the Metropolitan Opera Orchestra, Dallas Symphony Orchestra, National Symphony Orchestra, Saint Louis Symphony, Orpheus Chamber Orchestra and Rochester Philharmonic Orchestra.

Mr. Del Curto's recent engagements include a recorded performance of Piazzolla's bandoneon concerto Aconcagua with the Boston Symphony Orchestra and Maestro Thomas Wilkins, a performance of Piazzolla's Four Seasons of Buenos Aires with the Indianapolis Chamber Orchestra, and a performance with the Portland Symphony Orchestra, which included Del Curto's composition, Paris to Cannes. His 2022-2023 season highlights include performances with the Richmond Symphony Orchestra with his quintet and his son Santiago and a recording of his commissioned work, Trace of Time with the Apollo Chamber Players.

Buenos Aires-born Del Curto is a fourth-generation bandoneonist who won the title "Best Bandoneon Player Under 25" in Argentina at age 17, and was subsequently invited to join the orchestra of the legendary Osvaldo Pugliese, the "Last Giant of Tango". In 1998, Mr. Del Curto became music director of Forever Tango, a Broadway hit that continues to tour the world. Soon after, he founded the Eternal Tango Orchestra, a ten–piece ensemble that debuted at New York's Lincoln Center, as well as the Hector Del Curto Tango Quintet. Both are featured on his self-produced albums, Eternal Piazzolla and Eternal Tango, which were profiled by BBC News and Public Radio International.

Mr. Del Curto has appeared on recordings with such artists as Osvaldo Pugliese, Astor Piazzolla, Paquito D'Rivera, Tito Puente, and Plácido Domingo. As part of the Pablo Ziegler Trio, he received a 2018 Grammy award for Jazz Tango.

Dedicated to the education, outreach, and the preservation of tango, Mr. Del Curto co-founded the Stowe Tango Music Festival in 2014, and continues to serve as its artistic director. The premier tango music festival in the United States, it draws the most talented tango musicians and dancers, as well as fans, from all over the globe. He also produced the festival's awarding-winning album: Live at the 2016 Stowe Tango Music Festival.